Antique Auto Links.
If there is no menu on left side of page please Visit our Site at www.riwire.com
Here is a small list of links that may or may not be worth checking out. Give me some feedback, as this page will be updated often. You can click on the logo or the link to visit any of these sites.
Hemmings Motor News, what can I say. If you have not heard of them you have not been listening. Great source for all things old on wheels.

Here is a new one, looks like a great site for anyone!
Great Old Cars: FREE Photo Classifieds for Classic, Collector and Antique Cars and Trucks. Listings include Vehicles For Sale, Events, Parts, Accessories, Services and Collectibles. Also, research information including photos, VIN decoding and Classic Car prices. http://www.greatoldcars.com
Here is a new and interesting site all about American Austin, and American Bantam. Please check out the Austin Bantam Website Feedback is always welcome.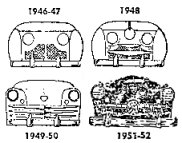 You need parts for your Crosley? This is an online site dedicated to Crosley, and if you have a Crosley you just may want to visit Service Motorsand see what they have to offer.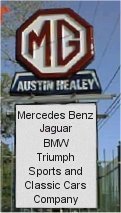 Aside from mechanically restoring, servicing and supplying parts for vintage British cars Sports and Classic Car Co. services, repairs and offers parts for today's models by Jaguar, Rolls Royce and Mercedes Benz.
Need Mopar information? This is an incredible list of service manuals for Dodge / Chrysler products dating back to the beginning. Check out Mopar Manuals and purchase information on a CD ROM. New Site, more info!
Need to fix your old Ford? Golding's T Parts has parts for T's and more. Go check out the site. Feedback welcome.
Need to show off the Ford you just fixed? Model T Ford Club of America is online. Check it out.
If you need to know anything about Bantams or American Austins just visit Home of American Austin and Bantam lots of great information and links.
If you want to read up on one of the greatest car makes ever go to Pre War Buick and find out all about these great cars. You may even find something interesting in the Trunk!
Want to build yourself a nice old car? Got more time than money?? build one of these 1946-1948 Plymouth and Dodge Automobiles... I know I want to now!
Do you like Jags? We do, and so do the Jag-Lovers... Feedback welcome.
Classic Cars Online. These Cars are probably too new for us to do, but you may find this link interesting... Feedback is welcome!
Dodge Charger Tips and Information. TAnother vicle that's too new, but certainly a classic and a nice read.
If you think you have a great Link let me know and I will add it.
I find it funny that I just updated this page and the text that was here was talking about upgrading from windows 98 to Windows XP. I'm stull using XP, and should be using Windows 7 because time marches on but I've heard nothing but bad things about Windows 8.
As always I love to hear from you people, let me know what you are working on, or if you have a link you want me to add to this little page.

Travis Pease Rhode Island Wiring Service, Inc.
President RIWS last updated 02/20/14
If there is no menu on left side of page please Visit our Site at www.riwire.com